Ready to Grab Some New Gear? Here Are Our Personal Favourites (If You're Not Sure What To Get, Start Here).
In my opinion, a home gym is easily the best (and most rewarding) way to train.
When you're setting one up – or adding to an existing setup – consider the items below. These are the ones we use ourselves, love and strongly recommend.
Let's dive in.
Essentials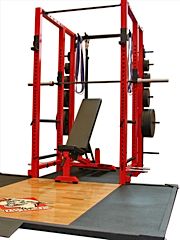 These are the items at the core of any strength-focussed home gym. Barbell, bench, rack and plates.
That's really all you need to get started. The one we recommend are :
Extras
Once you've got the basics covered, consider adding an extra or two. Our favourites are :
Of course there's a whole lot more. Have a poke around on Amazon, or sites like StrongerGrip or Dragon Door if you're after something specific.
And if you still can't find one, drop me a line. Happy to help.